Sundays – 8:30 and 11am*
*the First Sunday of each month – 1oam
Wednesday Eucharist – 6pm
Mon & Wed – Morning Prayer @ 9am
Our Vision is to be relevant to the Lake Region Community; serving and drawing others to the Gospel of Jesus Christ as a growing Episcopal Church.  Please join us!

Server Schedule January through March 2018
What's happening at Trinity: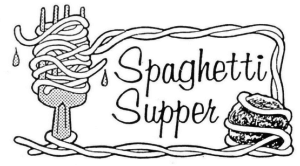 SPAGHETTI SUPPER
Wednesday, January 24 @ 6:30pm
The 4th Wednesday Spaghetti Dinner will include a short talk by Dan Dorosheff, Fish and Wildlife Biologist.  on invasive plants of the lake area and their management.  Dinner is at 6:30pm, presentation begins at 7pm.

MEN'S GRILL-n-CHILL
Thursday, January 18 @7pm
The grill will be hot; salad and potato ready!
Bring your choice of meat and beverage…and bring a friend!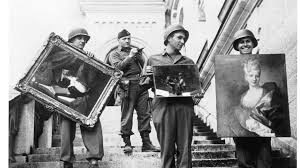 MOVIE NIGHT
Thursday, January 11 @6pm
Our Movie Night has been moved to the 2nd Thursday of the month. Copyright laws prevent us from advertising the movie specifically, but perhaps the image at left provides a hint.  This exciting movie stars George Clooney, Bill Murray, Matt Damon, John Goodman, and Cate Blanchett among others.  As always, there will be free popcorn, drinks and candy available and there is never a charge for the movie.

A new Tai Chi class begins on Monday, Jan. 8 The class will meet Mondays and Thursdays from 10am-11am.  Limited to 15 members, please notify the office ASAP.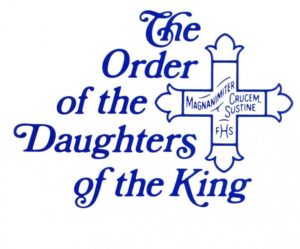 DOK News
The Daughters of the King will host a seven week study of the hymn "O Come, O come, Emmanuel" on Wednesdays at 10:30am, beginning 1/3.  Each week will include a verse of the hymn, music, poetry and a devotional Bible Study.  If you have questions or would like additional information, please call LaVonne Mackey.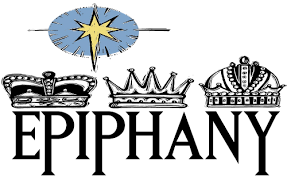 SUNDAY, JANUARY 7 – Epiphany I
ONE SERVICE – 10am
It is also the week that we collect items for the Lake Area Ministries food bank.  LAM has reported that in 2017, they were able to serve 15,705 people which is the most in their 22 year history.
As always, they appreciate donations of all kinds of food, flour, sugar, and food for pets.  There will be a basket in the back of the hall for your gifts and before they are taken to LAM, they are blessed by Fr. Tony.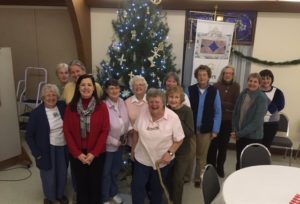 Trinity ECW News
Deborah Strickland, Administrator at Haven, was the speaker at January's ECW Meeting. Participants received information about Haven's guide for Advance Care Planning.  http://beyourhaven.org/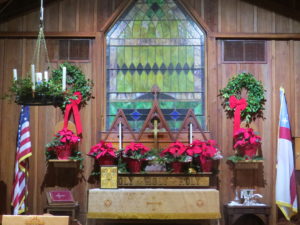 CHRISTMASTIDE
Christmas 1 – Sunday, December 31 – 10am
One more Sunday to sing carols!
CHRISTMAS EVE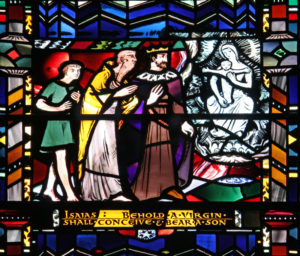 SUNDAY, DECEMBER 24
10am – One Service in the Parish Hall
Celebrate the Fourth Sunday in Advent!
Isaiah 7:10-16
SATURDAY, DECEMBER 9
MERRY MELROSE BBQ
Pulled Pork Sandwich
Cole Slaw and Baked Beans
Drink of Choice
All for $8!! Serving until they sell-out…come early!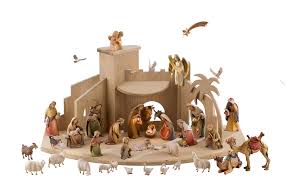 SATURDAY, DECEMBER 9
Our Annual Nativity Walk will be held on Saturday, December 9 along with Merry Melrose.  If you have a special Nativity that you would like to share for a day, we will have tables set up in the Parish Hall to display them.  In the past, it's been wonderful to see scenes that have been passed down through generations, scenes that are new and different, scenes from foreign places, some for children…all of which are treasured!  There will be adults in the room at all times to be sure they are cared for during the Nativity Walk.   Cookies and hot drinks will be served.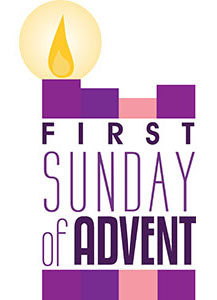 SUNDAY, DECEMBER 3
One service at 10am; covered dish luncheon
This is also the first Sunday of Advent and there will be Advent booklets available for everyone after the service.  Don't forget to pick one up as you leave.  This is LAM Sunday and the basket will be available for food items you may wish to donate.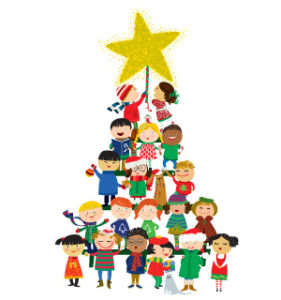 SUNDAY DECEMBER 3
The angel tree will  be up this weekend with the names of local children and something they would like for Christmas.  If you are able, please take an angel with you and return your gifts unwrapped to the office.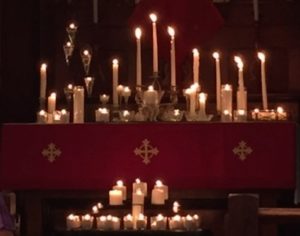 SUNDAY, DECEMBER 3 @ 4pm
The Daughters of the King will host a service of Evening Prayer with Taize. Please join us for this time of peace and reflection as we enter the Advent season – lovely Taize worship accompanied by the dulcimer.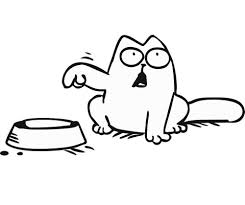 SATURDAY, DECEMBER 2 @ noon
The ECW is hosting a luncheon on Saturday, December 2. Bring a covered dish and a bag of dry cat food…we will not be eating the cat food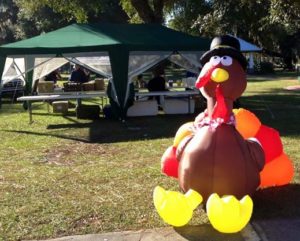 THANKSGIVING IN THE PARK
Thanksgiving Day – Thursday, November 23
Rain didn't dampen our annual Thanksgiving Day celebration.  We moved it all across the street into the parish hall and onto the veranda.  Thank you to all volunteers for helping to make this such a fun event!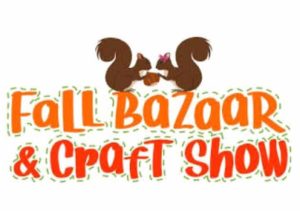 ANNUAL TRINITY BAZAAR
Friday, November 10 from 2pm-6pm
Chili Supper begins at 3pm
Saturday, November 11 from 9am-3pm
BBQ lunch 11am-1pm
The Trinity Bazaar will feature a yummy bake sale, jams, jellies, a selection of beautiful pre-owned clothes, furniture, antiques, collectibles, art, housewares, plants & gardening supplies, crafts, and many other items.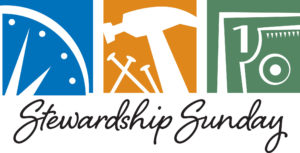 Sunday, November 5
ONE SERVICE in the Parish Hall @ 10am
Lunch follows the service:
Main dish provided by the Stewardship Committee
Please bring a SIDE DISH OR A DESSERT 🙂
Don't forget to bring your PLEDGE CARD if you haven't already turned it in, all pledges will be blessed during the service.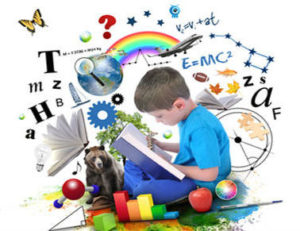 Thursday, October 26
Movie Night @ 6pm
The movie of the month explores how to create an ordinary life for an extraordinary child.  Set in a coastal Florida town, Frank, single man, is raising his niece Mary, a child prodigy.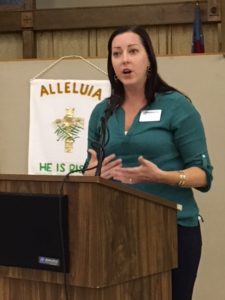 Wednesday, October 25 @ 6pm
Fourth Wednesday Dinner and Program
Many thanks to Joanna Merrit, of Answers Resource Facility, for the informative and thought-provoking presentation last night. Good things are happening! Check it out here: http://www.findanswersnow.org/
Thank you for another delicious spaghetti dinner, John and  Cheryl Katterhenry and volunteers!
Watch this space – next 4th Wednesday program will be January 24, 2018.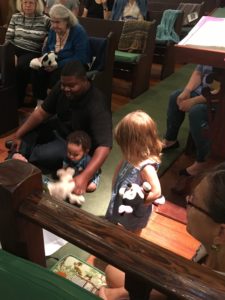 Sunday, October 8
Celebrating our stuffed animal friends!
> Stuffed animals that will be tossed from the Trinity float during the Merry Melrose Parade were blessed at the 8:30am service.
> At the 11am service, children brought forward their stuffed animals. Receiving a blessing today, were Minnie Mouse, Dory, Lambie and their favorite humans
Celebrating the Feast of St. Francis!
Saturday, October 7 – Heritage Park Gazebo – Blessing of the Animals
Blessings today for Eugene, Jake, Jazzie, Maggie, Maxie, and Sophie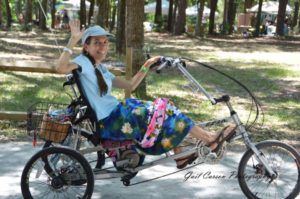 4th Wednesday Dinner and Program – September 27
Our fourth Wednesday Dinner and program kick-off was a success! Many thanks to our speaker, Deborah Thompson, who shared her inspirational story with us. Her powerful message encouraged each of us that, "If you have a dream in your pocket…spend it now!"
Many thanks to John Katterhenry for organizing this event and to John and his entire crew for a delicious dinner!  Watch this space for details about the 4th Wednesday event in October.

Have you visited the Trinity Episcopal Church Facebook page?  Check us out and please "LIKE" the page. When you click "LIKE" the page, it will then appear in your feed so that you can keep up-to-date.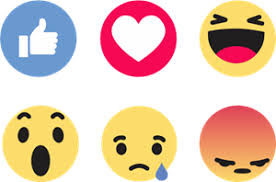 Also, did you know that when you "react" a post, it helps get the word out about the good things we are doing at Trinity.
So, get your pointer finger ready and give Trinity a Facebook boost!
 On-going programs:

Home Fellowship at the home of Fr. Tony and Ann Powell starts at 6:00pm every MONDAY.  Everyone is invited.  Please contact Fr. Tony if your need directions to their house for the meeting.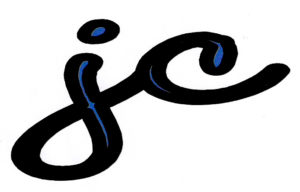 Sunday School – JC and the Bible!
JC and the Bible is going to be after the services on Sunday rather than before the service.  Everyone is welcome!  It's a fun and informative class and discussion.

Tai Chi class
Mondays and Thursdays @ 10am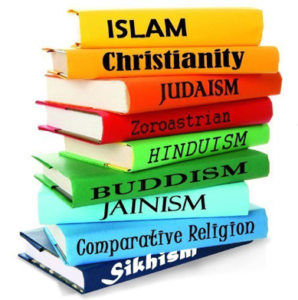 A study of Comparative Religions is held Tuesdays at 1:30 in the Wicker Room.  Everyone is welcome!  Most lessons will be independent and not depend on having been here the prior week, so if you need to miss one or two, that won't mean you have to miss the others.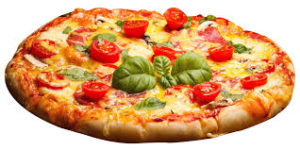 Betty's on Tuesdays at noon. There is often a discussion of the coming week's lessons and sometimes just a discussion, but it's always fun and interesting!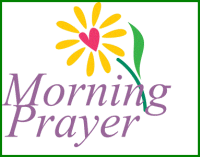 Morning Prayer Monday and Wednesday @9:00am
Everyone is welcome to the service which brings much
tradition and is part of the history of the Episcopal
Church. Plus, it's a wonderful way to start the day!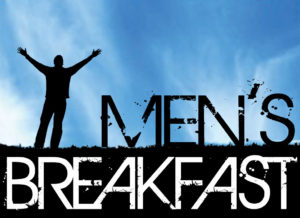 Trinity Men's Club Breakfast
Last Saturday of each month
Begins at 8:30am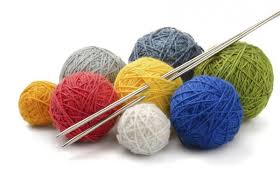 Sister's Circle
Tuesdays at 10am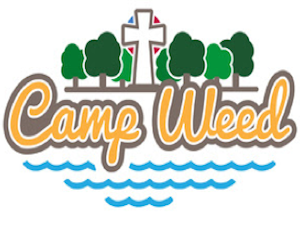 Online registration for Camp Weed events
Summer Camp, Happening, The Bishop's Institute, Cursillo, Vocare, BreakOut!, New Beginnings and more;  click on the Camp Weed logo at left.