SUMMER SCHEDULE:
One service at 10am in the church.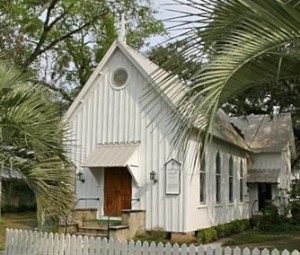 Regular worship times resume in the fall:
Sundays – 8:30 and 11am*
*the First Sunday of each month – 1oam
Wednesday Eucharist – 6pm
Mon & Wed – Morning Prayer @ 9am
Our Vision is to be relevant to the Lake Region Community; serving and drawing others to the Gospel of Jesus Christ as a growing Episcopal Church.  Please join us!
What's happening at Trinity:
For those of us who have experienced Sue Carmichael, here's an opportunity to celebrate her Urban Ministry on Sunday, July 23.  Please read this link to get more information.
Sundays in the Summer
ONE SERVICE @ 10am in the church*

*First Sundays in the Parish Hall

A study of Comparative Religions  Tuesday @ 1:30:  Special guest speakers this week!  Missionaries, Bryant and Ann Wilhelmsen, will share their experiences working with Muslim refugees currently uprooted by ISIS and the civil war in Syria.  The Wilhelmsens are missionaries with Go Ye Fellowship and are working in Germany.  Everyone is welcome!
The Men's Club Grill 'n Chill!
Thursday, July 20 @ 7:00pm
bring your own meat and beverage…
the grill will be HOT!
Chicken Dinner and Basket Auction
Saturday, July 22
We still have some baskets out on the table in the Forum Room so that you can choose one that seems to call your name or sparks your imagination. You can fill them with any thing from an Apple Pie to Zebra Plants. We've had many intriguing and wonderfully ingenious or whimsical baskets in the past.
If you fill it, we will wrap it with a bow and make an auction card. The filled baskets don't have to be returned until sometime on or before July 17th so you have lots of time to dream up something. They can be large baskets or wee little ones, whichever you like. And, don't forget to get your tickets from Virginia or the office so you can enjoy the meal, the fun and fellowship and maybe even win a basket at the silent auction!
Thursday, July 27
Movie nights have become great fun and we have been blessed to have members of the community join us on the 4th Thursday nights of each month for our movies. All of the movies are family friendly so people of all ages are happily invited to attend.  If you'd like to enjoy an inexpensive (aka Free) night out with popcorn, drinks and candy along with a terrific show and some friends, come and enjoy the movie. Doors open at 6:00pm and the movies start at 6:30pm.
Calling all Volunteers!
Many of our ushers and greeters will be gone
for a while on vacations, so if you would like to
serve one Sunday (or more) a month, or if you
would like to serve at the Altar or be a reader,
please speak to Father Tony and let him know.
On-going programs:
Sunday School – JC and the Bible!
JC and the Bible is going to be after the services

on Sunday

rather than before the service.  Everyone is welcome!  It's a fun and informative class and discussion.  If you haven't already had a chance to enjoy a class, just grab a snack and a chair and join the group.
NEW! Tai Chi class
Mondays @ 10am
A study of Comparative Religions is held Tuesdays at 1:30 in the Wicker Room.  Everyone is welcome!  Most lessons will be independent and not depend on having been here the prior week, so if you need to miss one or two, that won't mean you have to miss the others.
Betty's on Tuesdays at

noon

. There is often a discussion of the coming week's lessons and sometimes just a discussion, but it's always fun and interesting!
Morning Prayer Monday and Wednesday @9:00am
Everyone is welcome to the service which brings much
tradition and is part of the history of the Episcopal
Church. Plus, it's a wonderful way to start the day!
Trinity Men's Club Breakfast
Last Saturday of each month
Begins at 8:30am
Sister's Circle
Tuesdays at 10am
Online registration for Camp Weed events
Summer Camp, Happening, The Bishop's Institute, Cursillo, Vocare, BreakOut!, New Beginnings and more;  click on the Camp Weed logo at left.