Sundays – 8:30 and 11am*
*the First Sunday of each month – 1oam
Wednesday Eucharist – 6pm
Mon & Wed – Morning Prayer @ 9am
Our Vision is to be relevant to the Lake Region Community; serving and drawing others to the Gospel of Jesus Christ as a growing Episcopal Church.  Please join us!
Server Schedule October 2017
Server Schedule November/December 2017
http://www.lectionarypage.net/ (YEAR – A)
What's happening at Trinity: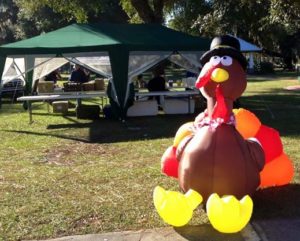 THANKSGIVING IN THE PARK
Thanksgiving Day – Thursday, November 23
Planning for Thanksgiving has already started!  We will need many hands and hearts to help with the celebration!  Willing to help? Here's how!
Items for us to borrow: canopies and coolers
Pass out flyers, serve food, set-up, lead crafts for kids, clean-up, financial contributions …all are also ways you can help.  Please contact the church office to join in on this amazing day!
And, most importantly, we ask for your prayers that the food will feed the number coming and those who are most in need will find their way to us.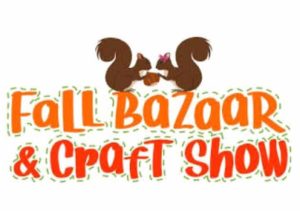 ANNUAL TRINITY BAZAAR
Friday, November 10 from 2pm-6pm
Chili Supper begins at 3pm
Saturday, November 11 from 9am-3pm
BBQ lunch 11am-1pm
The Trinity Bazaar will feature a yummy bake sale, jams, jellies, a selection of beautiful pre-owned clothes, furniture, antiques, collectibles, art, housewares, plants & gardening supplies, crafts, and many other items.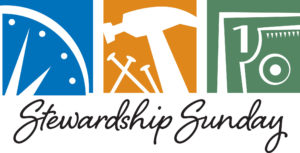 Sunday, November 5
ONE SERVICE in the Parish Hall @ 10am
Lunch follows the service:
Main dish provided by the Stewardship Committee
Please bring a SIDE DISH OR A DESSERT 🙂
Don't forget to bring your PLEDGE CARD if you haven't already turned it in, all pledges will be blessed during the service.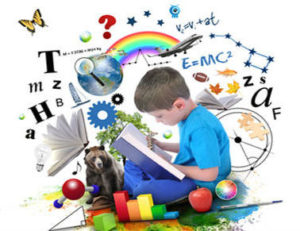 Thursday, October 26
Movie Night @ 6pm
The movie of the month explores how to create an ordinary life for an extraordinary child.  Set in a coastal Florida town, Frank, single man, is raising his niece Mary, a child prodigy.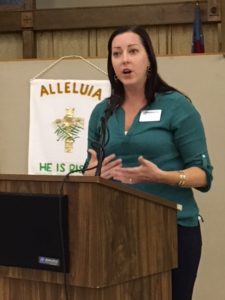 Wednesday, October 25 @ 6pm
Fourth Wednesday Dinner and Program
Many thanks to Joanna Merrit, of Answers Resource Facility, for the informative and thought-provoking presentation last night. Good things are happening! Check it out here: http://www.findanswersnow.org/
Thank you for another delicious spaghetti dinner, John and  Cheryl Katterhenry and volunteers!
Watch this space – next 4th Wednesday program will be January 24, 2018.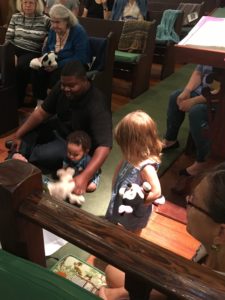 Sunday, October 8
Celebrating our stuffed animal friends!
> Stuffed animals that will be tossed from the Trinity float during the Merry Melrose Parade were blessed at the 8:30am service.
> At the 11am service, children brought forward their stuffed animals. Receiving a blessing today, were Minnie Mouse, Dory, Lambie and their favorite humans
Celebrating the Feast of St. Francis!
Saturday, October 7 – Heritage Park Gazebo – Blessing of the Animals
Blessings today for Eugene, Jake, Jazzie, Maggie, Maxie, and Sophie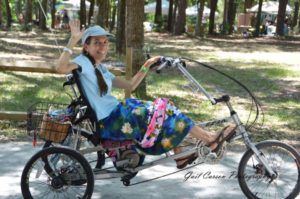 4th Wednesday Dinner and Program – September 27
Our fourth Wednesday Dinner and program kick-off was a success! Many thanks to our speaker, Deborah Thompson, who shared her inspirational story with us. Her powerful message encouraged each of us that, "If you have a dream in your pocket…spend it now!"
Many thanks to John Katterhenry for organizing this event and to John and his entire crew for a delicious dinner!  Watch this space for details about the 4th Wednesday event in October.

Have you visited the Trinity Episcopal Church Facebook page?  Check us out and please "LIKE" the page. When you click "LIKE" the page, it will then appear in your feed so that you can keep up-to-date.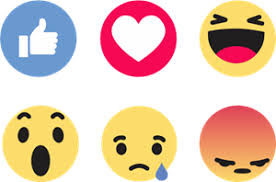 Also, did you know that when you "react" a post, it helps get the word out about the good things we are doing at Trinity.
So, get your pointer finger ready and give Trinity a Facebook boost!
 On-going programs:

Home Fellowship at the home of Fr. Tony and Ann Powell starts at 6:00pm every MONDAY.  Everyone is invited.  Please contact Fr. Tony if your need directions to their house for the meeting.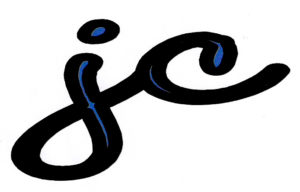 Sunday School – JC and the Bible!
JC and the Bible is going to be after the services on Sunday rather than before the service.  Everyone is welcome!  It's a fun and informative class and discussion.

Tai Chi class
Mondays and Thursdays @ 10am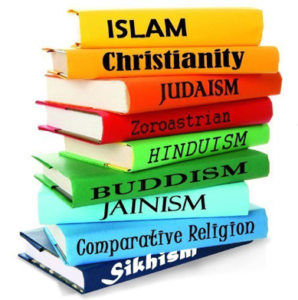 A study of Comparative Religions is held Tuesdays at 1:30 in the Wicker Room.  Everyone is welcome!  Most lessons will be independent and not depend on having been here the prior week, so if you need to miss one or two, that won't mean you have to miss the others.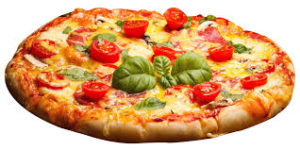 Betty's on Tuesdays at noon. There is often a discussion of the coming week's lessons and sometimes just a discussion, but it's always fun and interesting!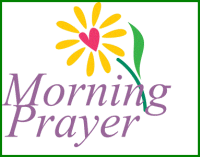 Morning Prayer Monday and Wednesday @9:00am
Everyone is welcome to the service which brings much
tradition and is part of the history of the Episcopal
Church. Plus, it's a wonderful way to start the day!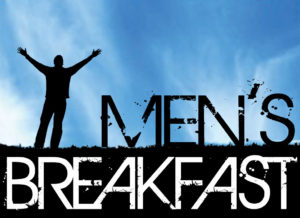 Trinity Men's Club Breakfast
Last Saturday of each month
Begins at 8:30am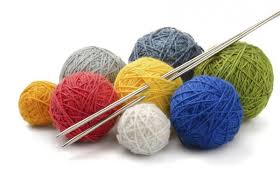 Sister's Circle
Tuesdays at 10am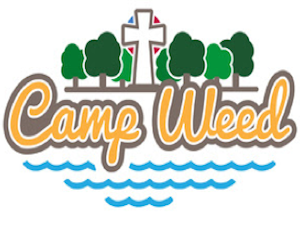 Online registration for Camp Weed events
Summer Camp, Happening, The Bishop's Institute, Cursillo, Vocare, BreakOut!, New Beginnings and more;  click on the Camp Weed logo at left.