Sundays 8:30 and 11am*
*First Sunday of each month – 1oam
Wednesday evening 6pm
Our Vision is to be relevant to the Lake Region Community; serving and drawing others to the gospel of Jesus Christ as a growing Episcopal Church.  Please join us!
Nativity Walk – Saturday, December 13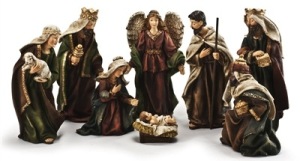 Our Nativity Walk will take place during "Merry Melrose" festivities.  If you have an Nativity set you would like to display – new, old, or a set with a story – please contact the office and we will reserve a space for your Nativity.
There will be music, cookies and something to drink.  Someone from Trinity will be in the hall the entire time to watch over things.  Last year's event was just wonderful…with many people from the community stopping by to view our Nativity scenes.
Thanksgiving in the Park
Thank you Melrose!