Sundays – 8:30 and 11am*
*the First Sunday of each month – 1oam
Wednesday – 9am and 6pm
Our Vision is to be relevant to the Lake Region Community; serving and drawing others to the gospel of Jesus Christ as a growing Episcopal Church.  Please join us!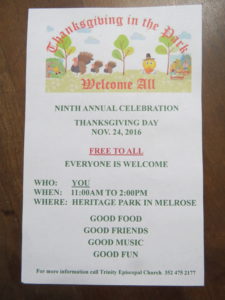 Thanksgiving in the Park – See the article, "A Day for Giving," in the Friday, November 25th edition of the Gainesville Sun.
Friends from far and wide enjoyed the 9th annual "Thanksgiving in the Park," hosted by Trinity Episcopal Church.  Many hands prepared and served the food as nearly 500 people attended.
Congratulations to our own Linda Wilcox for coordinating another fine event. Quoting the Sun article, "I really feel like this is God's party," she said. "This is what Thanksgiving is all about."
Preparations for Thanksgiving in the Park:

Tuesdays @ 1:30pm
New class on the Old Testament
Wicker Room
Morning Prayer
Monday and Wednesday Mornings @ 9:00am
Online registration for Camp Weed events
Summer Camp, Happening, The Bishop's Institute, Cursillo, Vocare, BreakOut!, New Beginnings and more;  click on the Camp Weed logo at left.
Server Schedule October thru December 2016
YEAR A –  http://www.lectionarypage.net/