2018 Events
May 23 – 4th Wednesday – "Food and Feasts of the Bible"
R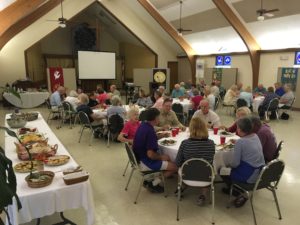 esearching the topic must have been fascinating for John Katterhenry, who by vocation is a chef. As John shared with us, "Once I began researching this project I found more than enough information to fill an entire semester. Besides getting hungrier and hungrier, I made some great discoveries of how food was not only used for sustenance but also was a very common metaphoric tool used for teaching the ideas. Perhaps the best example of this would be in the Lord's Prayer, "Give us this day our Daily Bread."  A slide presentation accompanied John's talk on "Foods and Feasts of the Bible."
May 20 – The Day of Pentecost
April 1 – Easter Sunday!
WEDNESDAYS IN LENT
The Soup Supper on March 21, was hosted by St. Mark's in Starke.  A delicious array of soup was enjoyed by all as well as the lively fellowship during dinner. Our program focused on the Episcopal Church; American roots of the church were explored and discussed.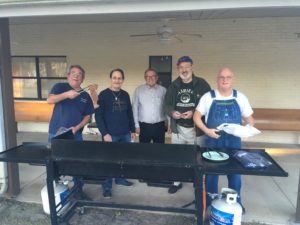 THURSDAY, MARCH 15
Men's Club Grill-n-Chill
Just bring your own meat and beverage, we'll provide baked potatoes and a garden salad.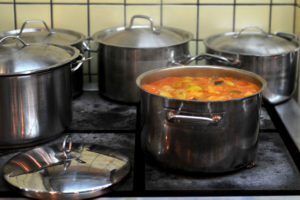 WEDNESDAYS IN LENT
The fourth Wednesday in our series of Lenten programs on the History of Anglicanism will he held at Trinity on Wednesday, March 14, beginning at 6:00pm. Soup supper and the program with discussion is followed by Holy Eucharist. Members of St. Mark's of Starke will be joining us for the evening
  This event is open to the public…all are welcome!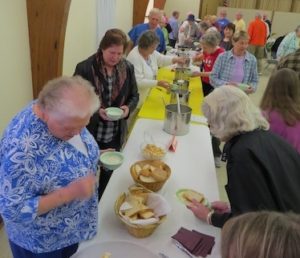 LENTEN SOUP SUPPERS – WEDNESDAYS
February 21 @ St Marks @ 6pm
February 28 @ Trinity @ 6pm
March 7 @ St. Mark's @ 6pm
March 14 @ Trinity @ 6pm
March 21 @ St. Mark's @ 6pm
March 28 @ Trinity @ 6pm
Our series of Lenten services will be held on alternating weeks at either Trinity or St. Mark's in Starke.   A program and Eucharist follow the soup supper. This year the theme will be "Our Anglican Roots," which includes videos, discussion, and special speakers.  Please join us!
MEN'S CLUB GRILL 'N CHILL – VALENTINE'S SPECIAL EDITION
Thursday, February 15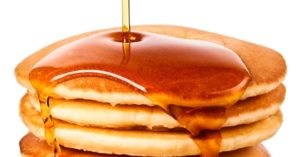 TUESDAY, FEBRUARY 13 from 5-7pm
PANCAKES FOR SUPPER?? YES!!!
It's time for the Troop #109 Annual Pancake Supper!
TROOP 109 NEWS
Blue Gold Ceremony – February 12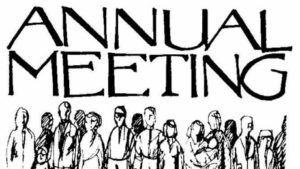 ANNUAL MEETING
Sunday February 4 – One service at 10am
Our Annual Meeting was embedded into our Sunday service – brilliant idea!! Trinity's Delegate, Jean Giesel, reported on the annual Diocesan Convention, several representatives of our wonderful ministries briefly spoke about their work, and the 2018 budget was presented. "Departing" vestry members, Jeanne S Homany and Laurie Alsobrook, were acknowledged for their service. By acclamation, new vestry members, Elaine Ashley and Bob Hood were received. Many thanks to Elaine and Bob for stepping up!
FOURTH WEDNESDAY
Wednesday, January 24
Many thanks to Dan Dorosheff, Fish and Wildlife Biologist, who spoke about invasive plants of the lake area and their management. Thanks, as well, to John and Cheryl Katterhenry for dinner and for organizing the event. An informative evening appreciated by all!
Past Events – 2017
Past Events – 2016
Past Events – 2015